You are coordially invited to join us in a special night of praise and worship as the Ministry of Speranta si Prietenii visit Bethel Romanian Apostolic Church during their North American 2012 Tour on:
Monday March 19, 2012 @ 7:00pm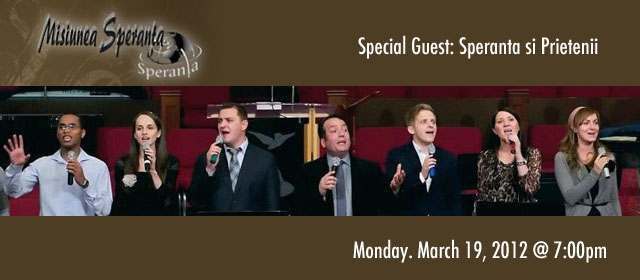 Starting March 2nd, Speranta (Hope) Group will start a new Mission and Evanghelistic tour in USA and Canada. The Tour will stop in many Romanian churches from Chicago, Cleveland, Reading, PA, Ridgewood, Montreal, Kitechener, CA., Cambridge, CA., Windsor, CA., Knoxville, Charlotte, Houston, San Antonio, Dallas, Hot Springs, Springfield, Union, Ypsilanti, MI. and Troy, MI.
The Speranta team will be joined by the President of Speranta Mission, Gabriel and Genoveva Gorcea, Emma and Cristi Repede, Ionut Craciun, Alina Alexa, Andrei Tibrea, Titel Malnasi and Ovidiu Hot.
The Tour will last approximately 3 weeks and will conclude on March 25th, 2012.