Bethe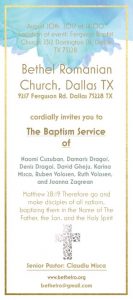 l Romanian Church Dallas held a Baptism Service Sunday, August 20th, 2017. With this occasion, eight souls have decided to follow Jesus!
---
We had guests from our Texas Romanian Community, and from other contiguous states. Our main speaker was 
Pastor Cornel Avraam
, the President of Romanian Pentecostal Union of US and Canada.
---
Event pictures and other media items will be posted soon.
---
For more info contact our Senior Pastor Claudiu Misca at: bethelro@gmail.com